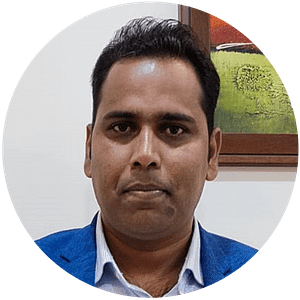 Dear Students,
My name is Mukesh Kumar Nirala, a programmer, teacher and above all a learner. I thought this would be the perfect time to share with you my idea and the vision behind Studide. Coding is the most in-demand skill of the twenty first century. People known to possess this skill command the world and are often more successful than their peers. Many people think coding can be mastered only by geniuses who have some supernatural intelligence levels, but I must tell you, you don't need to be a genius to learn how to code; only determination is required.
We at Studide strongly believe that with the right guidance and perfect determination, any student willing to learn programming can become a master of coding. All team members at Studide are aces of their respective field and they share the highest level of commitment towards quality teaching and student success and satisfaction. The present structure of computer education in colleges and universities is not aligned to the needs of the IT Industry. Students have no place to go and bridge this huge gap. It was this realization that prompted me to address this very real need of the student community. Studide was started as a learning Centre where we teach fundamentals of programming to college students. The courses here are designed to help students with their curriculum and give them a real feel of the IT industry. In the last three years, we have helped more than 7452 students achieve their goal and made them the darlings of the industry. At Studide, all our instructors are themselves great coders and highly employable in the industry. They decided to join Studide instead of lucrative jobs in the industry because they are passionate about teaching and strongly believe in the company's vision.
Whether you are a student just out of school, a college/university student, a working professional planning to switch domain to Software/IT, or just someone wanting to enhance your coding skills, I welcome you to join Studide. Based on your knowledge and skill, we will carve out a learning path for you and would guide you to become a great programmer. Wishing you success and achievement in your career.
Mukesh Kumar Nirala
Founder & CEO, Studide

Create More Employable Talent
Studide was founded in 2007 with a mission to create skilled Software Engineers for our country and the world. We are here to bridge the gap between the quality of skills demanded by industry and the quality of skills imparted by conventional institutes.
Make People Fall in Love with Coding
Programming is a lot of fun because, unlike other subjects, you get to instantly apply the concepts you are learning. At Studide, we strive to increase student interest by providing hands on practical training on every concept taught in the classroom.
Unlock New Opportunities
We create confident developers who think beyond industrial jobs and march their ideas into self-created entrepreneurship ventures. Skill and innovative thinking give developers the confidence to transform their ideas into real life products and hopefully go on to build million dollar companies.
Connect Talent with Employers
Along with training students with the latest technologies and programming languages, we also connect them to software companies via our placement assistance program. This program includes practicing a lot of interview problems and mock interviews conducted by company representatives.