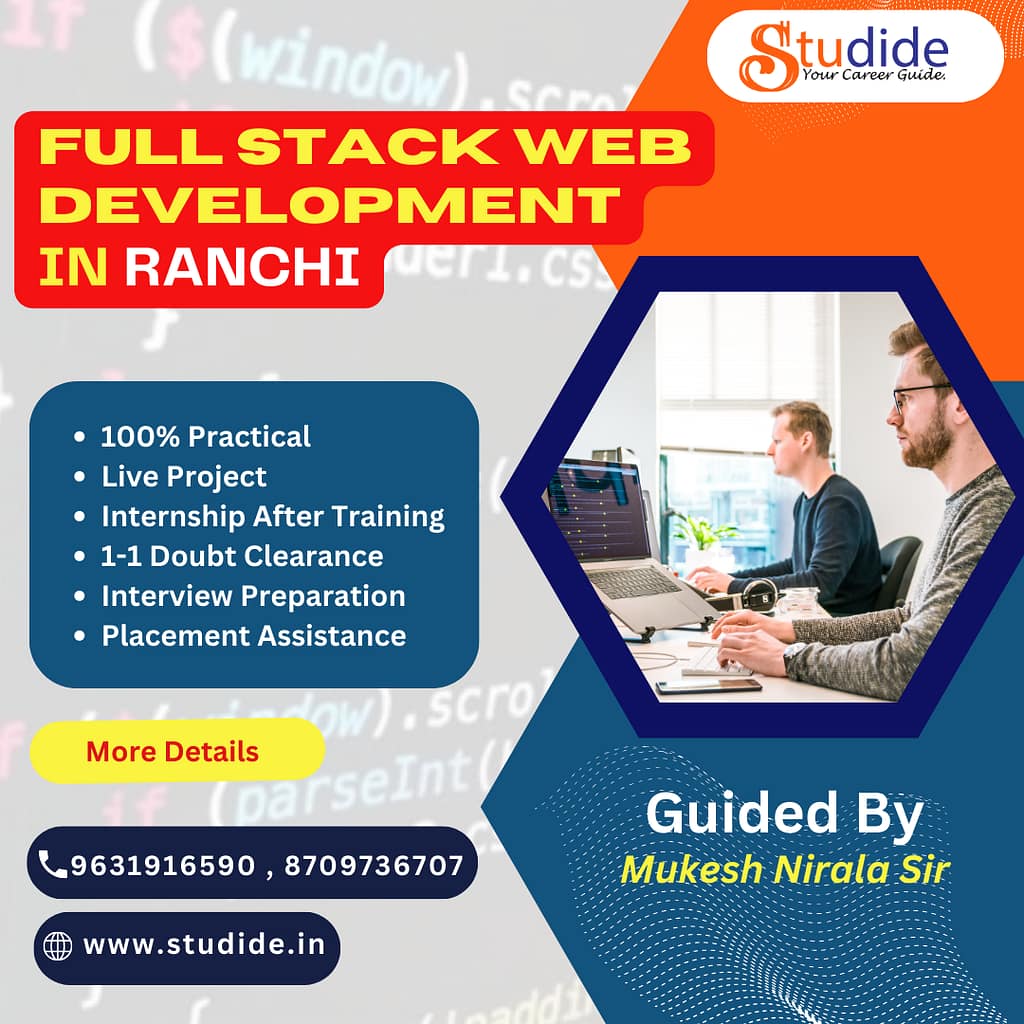 Are you looking to embark on a career in web development or enhance your existing skills? The Full Stack Development Course in Ranchi offered by Studide is your gateway to becoming a proficient full-stack developer. This advanced training program is designed to equip you with the knowledge and practical experience needed to excel in the dynamic world of web development.
Course Overview: The Full Stack Web Development Course in Ranchi is an intensive program that covers both front-end and back-end development, making you a well-rounded professional capable of building modern web applications. This course is ideal for beginners looking to enter the industry and experienced developers aiming to broaden their skill set.
Course Highlights:
Comprehensive Curriculum: The course covers a wide range of technologies and tools, including HTML, CSS, JavaScript, React, Node.js, Express.js, MongoDB, and more. You'll gain hands-on experience with these technologies through real-world projects.
Expert Instructors: Our instructors are industry experts with years of experience in web development. They are dedicated to providing personalized guidance and support to help you succeed.
Practical Projects: You'll work on real projects throughout the course, allowing you to build a strong portfolio that showcases your skills to potential employers.
Full Stack Development: Learn both front-end and back-end development to become a versatile developer capable of creating end-to-end web applications.
Job Placement Assistance: Studide offers job placement assistance, including resume building, interview preparation, and connections to a network of hiring companies in Ranchi.
Flexible Learning: Choose from flexible class schedules to fit your current commitments, whether you're a student or a working professional.
State-of-the-Art Facilities: Our Ranchi-based training center provides a conducive learning environment with modern technology and resources.
Networking Opportunities: Connect with fellow students, instructors, and industry professionals to expand your professional network.
Who Should Attend?
Individuals aspiring to become full-stack developers
Front-end or back-end developers looking to become proficient in both areas
Students seeking a career in web development
Professionals wanting to upskill in the rapidly evolving field of web development
Course Duration: The Full Stack Development Course typically spans 12-16 weeks, depending on your chosen schedule and pace of learning.
Don't miss this opportunity to gain the skills and knowledge needed to excel in the field of web development. Join Studide, Full Stack Development Training in Ranchi and take your career to the next level. Enroll now to secure your spot and unlock a world of possibilities in the exciting realm of web development.