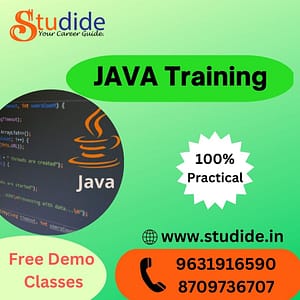 Are you looking for the ultimate Java training? Join studide, get the best java training in Ranchi! Our experienced instructors will give you the edge you need to excel in your field. We offer a comprehensive suite of Java courses in ranchi, covering all aspects of development, from fundamentals to advanced techniques. Get ready to be armed with the knowledge, tools and techniques you need to stay ahead of the competition with our cutting-edge Java training!
studide in IT Training Institute – Ranchi provides core and advanced Java training courses, and students get a chance to learn best Java programming courses from our institute. We are running online and offline java training classes in Ranchi since 2013 from where more than 10,000 students are making career and doing good position job.
Best Java Training Institute in Ranchi , sudide IT Training Center is the best option for those who want to take training in Java Programming Course. Our Java programming training classes are designed with you in mind so everyone has the opportunity to learn from us.
studide IT training institute in Ranchi From junior school student to final year student can also get 3 months training for java training project also we provide android and front end programming course. Our instructors instruct all the students to conduct their own test to pass each session.
Java is a programming language developed by Sun Microsystems. It is mainly used in applets and programs that run on web pages. Java was created to be platform independent, meaning that a program written in Java will run on any platform. The source code of all Java applications is contained in a file called java.exe, which can be compiled into other modules or classes to be loaded into the system for execution.
Which is the best java training institute in ranchi? where you can get Full java training.
There are many many Java training institutes in Ranchi, but some of the best include:-
STUDIDE is one such institute that is fast gaining a reputation for its high-quality Java training. It offers both classroom

and online courses, and its instructors are experienced and passionate about Java development. STUDIDE also provides internship

and placement assistance to its students.

java training
Studied is the best Java training institute in Ranchi that you need to start your career as a Java developer or within a company that wants to avail this course. You can get complete Java training, internship and 100% placement.
Shine Skill is a well-known institute with a good reputation for its Java training. It offers both classroom and online courses, and its trainers are experienced and knowledgeable. 
Kainex Code Academy is another popular option for Java training in Ranchi. It offers a comprehensive course that covers all aspects of Java development, from the basics to advanced concepts.
Our service is – Software Development, Mobile App Development, Digital Marketing Services (SEO, SMO, PPC ). We can design any type of website according to the customer's requirement. Our software systems are affordable enough to be purchased by small, medium and large business personnel around the world.